Living Room continues every Tuesday night through December 15 at 7PM in the 2nd floor lounge of the Columbia City Cinema. Won't you consider bringing a copy of some recent writing to share with the gathered for discussion?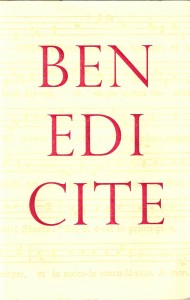 In the last Living Room, an intimate group discussed the new chapbook by Peter O'Leary, Benidicite. A Detroit native who earned a Ph.D. in Divinity at the University of Chicago, he now teaches at the School of the Art Institute in Chicago.
The word chapbook does not do justice to the remarkable beauty of this book, published by Answer Tag Press, with covers letterpressed at Dexterity Press in Chicago. The beauty of it is evident when you see it as well as when you read it. I learned of Peter's educational background AFTER reading the book and meeting him for the first time at Myopic Books for a reading of three fine Milwaukee poets, Tom Hibbard & Chuck Stebelton & Roberto Harrison.
That divinity background, combined with a poetic lineage that would include Robert Duncan, Nathaniel Mackey and, most importantly Walt Whitman, serves the poem and poet well. It is my feeling that, as poets in North America, we have a duty to strive to experience the world with the kind of wonder that propelled the Good Gray Poet. O'Leary agrees and channels a Whitmanic urge into a remarkable modern spiritual experience:
you mammals
you new emotional sensations
you intoxicated central nervous system
you flowers displaying and you pollenators
you songbirds in sexual colors
and you flesh of fruit
and you mother and baby sensing the quality of these
things and remembering it
you elepahantine-massive whales and whatever else in
the waters moveth
you birds in the sky threading the air with flight
you innovation of flying
you lumbering beasts of the land
you cattle sweet as grass
and you handsome cougar slain in the neighborhood
and you little housecat sphinxes perplexing the sun
you people
you daughters and you sons;
make holy this song
O'Leary is one of the most intelligent and conscious poet/scholars of his generation (born 1968). This new work, inspired by the film Into Great Silence is part of a longer poem The Phosphoresence of Thought.
While I was a little disappointed by the ending of this book (and you can read it yourself for your own view), I was still delighted to come across it and have the opportunity to discuss it and poetry in general with a man who's obviously an important poet whose future work will no doubt strengthen that view. Now it is up to us, as North American poets, to study Whitman's traces and propel them throughout the cosmos.