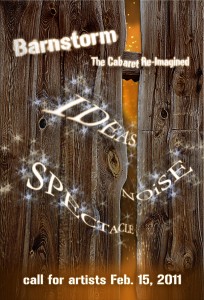 Got THIS in the SPLAB inbox today:
Local arts consortium seeks practitioners of dangerous, witty and
unfettered theatre & art to create an urban carnival humming with salon &
speakeasy undertones.
Barnstorm is part performance space, part art gallery, part bar & lounge open for three nights only (May 5 – 7, 2011; 6pm-2am nightly). Barnstorm is ideas, noise and spectacle.
Transforming a wonderful, yet woefully underused, downtown venue (a 3400
sq. ft. former theatre currently serving as a storage locker), Barnstorm
will invoke the original European cabarets to bring audiences and artists
together in an intimate and seemingly "off limits" setting. People will
physically mingle in a variety of spaces; they'll trip over each other;
thumb their noses at one another and engage – however indirectly – in a
dialogue about things that matter, things that disturb, things that art is
best at digging into…
…If you are an artist (or know an artist) interested in using art as a medium for dialogue about social issues facing our world, Barnstorm is the ideal venue.
There's just three criteria we're looking for you to exercise on your own
terms:
1) The work should engage social issues in some way (personal, local or
global)
2) It should inspire dialogue or interactivity with your audience
3) It should be artistically original
Things to note:
It's OK to present existing work, works in progress, or to use this as an
excuse to create something completely new.
We're paying. A percentage of our net proceeds will be divided up equally
among all participating artists (we're looking to include about 20).
You'll receive a contract stating these terms.
We're aiming to pull 400 people per evening – so this is a great
opportunity for exposure on the Seattle scene.
The deadline to submit your application is February 15.
Please visit www.barnstormcabaret.org to learn more and feel free to
contact us with any questions (or to brainstorm an idea):
info@barnstormcabaret.org
If nothing else – please save the date on your calendar, and encourage
others you know to attend or apply.
Cheers!
Quiet Heroes on a Rainy Night