Apocalypticism Now? In a recent Chicago Review essay, Peter O'Leary attempts to trace a "way forward" between traditional workshop poetry and Language poetry, both of which have become academically institutionalized. He draws the right lineage, but the wrong conclusions. There is another, more useful direction toward which O'Leary's concerns can lead. Chuck Pirtle is our guest, Paul Nelson facilitates.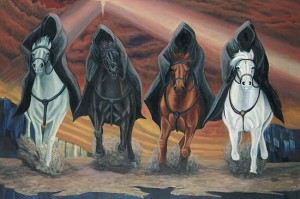 Writers of all ages and skill levels gather Tuesdays at 7P to read new work, the work of someone else or to just be in the engaging company of other writers. Your donation of $5 helps SPLAB put on special events and continue programming. Please bring 8 copies of the work you plan to read. If you do not bring copies, they are available for 10c.
Living Room happens in the new SPLAB in the Cultural Corner of the old Columbia School, between Rainier AV S and 36th AV S, on Edmunds. We're 2 blocks from the Columbia City Link Light Rail Station. Parking is available on the school grounds.