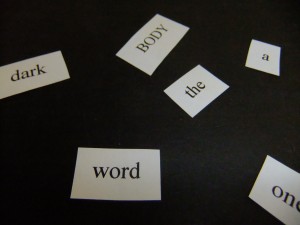 We'll invite ourselves to play with words by moving the words of another poet around on paper.
We'll think about the words that commonly show up in our work, and how we can pull them from one poem to make a thread to begin something new, maybe something similar— maybe something completely different.
If you are inclined, bring a list of words from one or two of your own poems, or bring a list of words that belong in your next poem.
Also bring anything else you would like to workshop. Jeanne Morel facilitates.
Writers of all ages and skill levels gather Tuesdays at 7P to read new work, the work of someone else or to just be in the engaging company of other writers. Your donation of $5 helps SPLAB put on special events and continue programming. Please bring 8 copies of the work you plan to read. If you do not bring copies, they are available for 10c.
Living Room happens in the new SPLAB in the Cultural Corner of the old Columbia School, between Rainier AV S and 36th AV S, on Edmunds. We're 2 blocks from the Columbia City Link Light Rail Station. Parking is available on the school grounds.)
Our season ends June 28.