Hello, SPLAB-Fan!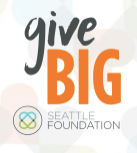 You've no doubt been hearing a lot about GiveBIG from local non-profit organizations who look for a little boost during this annual fundraising event.  Through Dollars for Change, Seattle Foundation will randomly select donors through the day to have their contributions boosted by $2500 from a pool of more than $350,000. This means that the more individual contributions given, regardless of size, the more chance there is for us to receive this significant boost to our fundraising.
GiveBIG is this Wednesday, May 10, but checkout the nifty SPLAB page!
Yes, since 2012, we've produced 3 iterations of the
Cascadia Poetry Festival
and have helped another be staged in Nanaimo, BC! We are planning CPF5 in Tacoma October 12-15, in partnership with the Tacoma Poetry Festival. We have (with Leaf Press of Lantzville, BC)  helped create the first
bioregional poetry anthology
in Cascadia.
In the last 6 years we've conducted and placed on line for free, interviews with Brenda Hillman, Nate Mackey, Daphne Marlatt, Cheryl Seidner of the Wiyot Tribe, Lawrence Paul Yuxweluptun, Susan Schultz, Cedar Sigo, Frances McCue, George Bowering, Andrew Schelling, Willie Smith, Jaap Blonk, George Stanley, Sam Hamill with Ian Boyden, Pageboy Magazine (Sierra Nelson and Thomas Walton), David McCloskey, Graham Isaac, Jewell James, Peter Culley, Juliana Spahr, Marilyn Stablein, Judith Roche, Colleen McElroy, Amalio Madueño, Joanne Kyger, Jerry Martien, Lorraine Arden, Barry McKinnon, Eric Tingstad, Sara DeLeeuw, Ed Varney, John Olson, Pablo Baler, Jean Heuving, Stephen Collis, Evan Flory-Barnes and others!
www.AmericanProphets.org
We are helping to expand the EasySpeak open mic series back to the Rainier Valley, create One Day Cascadia Poetry Festivals around the bioregion, including
Cumberland, BC, Sept 8-10, 2017
and other projects as well. No single organization has worked to create awareness of the culture of Cascadia and we're just getting started. No single organization has done more to connect the poets of BC, WA, OR and all of Cascadia.