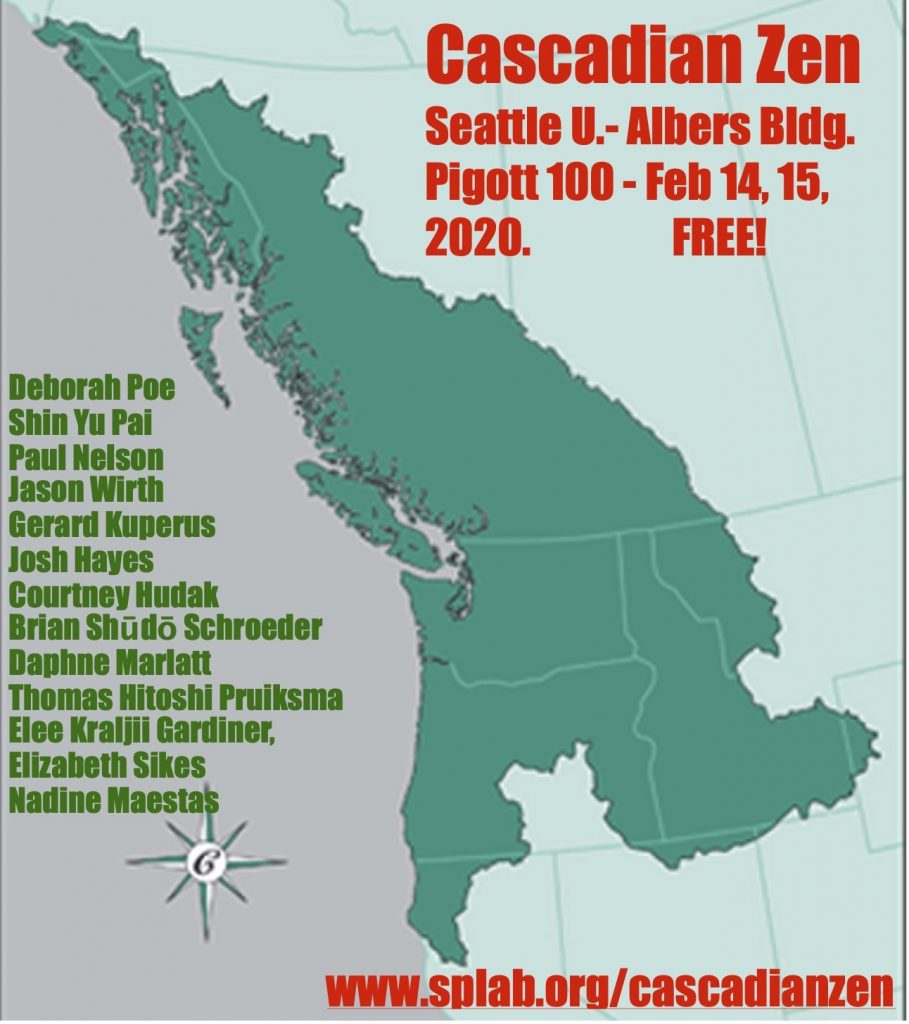 Organized loosely around exploring the relationship between the Cascadian bioregion as it intersects with Zen ideas, practices, and aesthetics, Shin Yu Pai, Jason Wirth and Paul E Nelson are hosting a diverse group of writers who are interested in broadly exploring the question of "What is Cascadian Zen?" through their poetic and/or philosophical writing.
What: Cascadian Zen
Where: Seattle U., Pigott 100, Albers Bldg.
When: Fri & Sat,
Feb 14, 15, 2020
Time: Friday: 3pm-8pm, Saturday, 9am-6pm
Cost: FREE
Participants: Deborah Poe, Shun Yu Pai, Paul Nelson, Jason Wirth, Gerard Kuperus, Josh Hayes, Courtney Hudak, Brian Shūdō Schroeder, Daphne Marlatt, Thomas Hitoshi Pruiksma, Elee Kraljii Gardiner, Elizabeth Sikes, and Nadine Maestas.
FRIDAY, FEBRUARY 14
3:00-3:45 PM Paul Nelson 3:45-4:00 PM BREAK
4:00-4:45 PM Nadine Maestas 4:45-5:00 PM BREAK
5:00-5:45 PM Elizabeth Sikes 5:45-6:00 PM BREAK
6:00-6:45 PM Deborah Poe 6:45-7:00 PM BREAK
7:00-7:45 PM Jason Wirth
7:45-8:00 words of welcome from Jason Wirth, Paul Nelson, and Shin Yu Pai
SATURDAY, FEBRUARY 15
9:00-9:45am – Courtney Hudak
10:00–10:45 AM Josh Hayes 10:45-11:00 AM BREAK
11:00–11:45 AM Daphne Marlatt
11:45-1:00 PM LUNCH BREAK
1:00–1:45 PM Thomas Hitoshi Pruiksma 1:45-2:00 AM BREAK
2:00–2:45 PM Gerard Kuperus 10:45-11:00 PM BREAK
3:00–3:45 PM Elee Kraljii Gardiner 3:45-4:00 PM BREAK
4:00–4:45 PM Brian Schroeder 4:45-5:00 PM BREAK
5:00–5:45 PM Shin Yu Pai
5:45-6:00 PM CONCLUDING COMMENTS: Jason Wirth, Shin Yu Pai, Paul Nelson.
PARTICIPANT BIOS
Elee Kraljii Gardiner is the author of two poetry books, Trauma Head and serpentine loop, and has edited two acclaimed anthologies Against Death: 35 Essays on Living and V6A: Writing from Vancouver's Downtown Eastside. Her writing has won or been shortlisted for the Cogswell Poetry Award, bpNichol Chapbook Award, Kroetsch Award for Innovative Poetry, Souster Award, Far Horizons Poetry Award, City of Vancouver Book Award, Lina Chartrand Award for Social Justice in Poetry and Pandora's Box BC Mentor Award. Elee is the founding director of Thursdays Writing Collective, which supported emerging writers from Vancouver's Downtown Eastside. Originally from Boston, Elee now lives in Vancouver on the traditional and unceded territories of the Squamish, Tsleil-Waututh and Musqueam Peoples. See: https://eleekg.com
Josh Hayes is an Associate Professor of Philosophy at Alvernia University in Pennsylvania. His research interests include ancient and medieval philosophy, continental philosophy, comparative philosophy, and environmental philosophy. He is co-editor of Philosophy in the American West: A Geography of Thought forthcoming with Routledge and is currently completing a monograph investigating the relationship between poetry and place throughout Western Turtle Island ranging from Robinson Jeffers, William Everson, Gary Snyder, and Robert Sund, to Mary Norbet Körte, Joanne Kyger, John Haines, and W.S. Merwin. He discovered zazen and the Buddha Way as graduate student with Bonnie Myotai Treace, the former abbot of Zen Center NYC. He is currently a student of Marian Morgan, a Diamond Sangha teacher in the Sanbo Kyodan lineage.
Gerard Kuperus is an associate professor in philosophy at the University of San Francisco. He has published on the significance of place and his work is inspired by both the Western tradition of philosophy as well as Zen Buddhism. He is the author of Ecopolitical Homelessness: Defining Place in an Unsettled World (Routledge 2016), the co-editor (with Marjolein Oele) of Ontologies of Nature (Springer 2017), and (with Josh Hayes and Brian Treanor) Philosophy in the American West: A Geography of Thought (Routledge 2020). He is currently finishing up a manuscript with the working title Ecopolitics: Redefining the Polis, analyzing different political communities outside of the human realm. By placing ourselves in a larger political unity and by learning more about ourselves through our non-human ancestors, the book argues to redefine the polis and with that ourselves.
Longtime Vajrayana practitioner and Vancouver poet, Daphne Marlatt's more recent titles include Liquidities: Vancouver Poems Then and Now, newly revised and new poems about her locale, and Reading Sveva, a poetic response to the biographical-philosophic work of the Canadian artist Sveva Caetani. In 2017 Talonbooks published her Intertidal: Collected Earlier Poems 1968- 2008, edited by Susan Holbrook. She has been a student of Zasep Tulku Rinpoche since the early 1990s.
Courtney Hudak is a Seattle writer and attorney. Her work has been published in Swivel Magazine and the Seattle Review of Books, at Design*Sponge.com, as part of King County's Poetry on Buses program, and in the anthology, Ghosts of Seattle Past. She performed a chapbook-length collection of poems as part of Ellen Lesperance's W.I.T.C.H. 1985/2017. As an attorney, she works solely on a pro bono basis representing asylum seekers in the Puget Sound area. She has practiced Zen for 25 years and remains uncertain.
Nadine Antoinette Maestas is a poet's poet and believes that the empire of the sentence is an extremely oppressive totalitarian regime. She prefers the company of poems so much that she would rather read a bad poem than a good novel, but when she is not doing poetry, Nadine loves mountain biking in dangerous and remote places in the Northwest. She teaches at the University of Washington and North Seattle Community College. She has facilitated writing workshops at the University of Michigan, Youthspeaks and has helped to pioneer poetry workshops in several public schools in California and Michigan. Nadine holds an M.F.A. from University of Michigan where she was awarded the Faraar award for playwriting. Her hybrid poem play, Hellen on Wheels: A Play of Rhyme and Reason, was performed at California College of the Arts. She is the co-author with Karen Weiser of Beneath the Bright Discus (Potes & Poets Press, 2000), and is currently writing a dissertation on postmodern American anthropoetics.
Paul E Nelson founded SPLAB (Seattle Poetics LAB) in 1993 and The Cascadia Poetry Festival in 2012, wrote: American Sentences, A Time Before Slaughter and is co-editor of Make It True: Poetry From Cascadia, Samthology: A Tribute to Sam Hamill, 56 Days of August: Poetry Postcards, and Make It True meets Medusario. His book of interviews taken from 16 of his 600+ interviews is: American Prophets (Interviews 1994-2012). Hear interviews at his blog: www.PaulENelson.com. Winner of the 2015 Robin Blaser Award, given by the Capilano Review, he lives with his partner and his seven-year-old daughter in the Duwamish watershed of the Cascadia bioregion and serves as Sam Hamill's literary executor. www.PaulENelson.com
A 2014 Stranger Genius Award nominee, Shin Yu Pai is the author of eight books of poetry. Her work has appeared in publications throughout the U.S., Japan, China, Taiwan, The United Kingdom, and Canada. Poems have been commissioned by the Dallas Museum of Art twice and her work is also featured in the Poetry-in-Motion Program sponsored by DART. She has been a featured presenter at national and international literary festivals including the Geraldine Dodge Poetry Festival and the Montreal Zen Poetry Festival. https://shinyupai.com
Deborah Poe is the author of the poetry collections keep (Dusie Press), the last will be stone, too (Stockport Flats), Elements (Stockport Flats), and Our Parenthetical Ontology (CustomWords), as well as a novella in verse, Hélène (Furniture Press). Her visual works—video poems and handmade book objects—have been exhibited at Center for Book Arts, University of Arizona Poetry Center, and University of Pennsylvania Kelly Writers House's Brodsky Gallery. She taught writing and literature until 2017 most recently as Associate Professor of English at Pace University and as Distinguished Visiting Writer for Seattle University during Winter 2016. She now works with SEIU 775 Benefits Group—a Seattle nonprofit serving caregivers across Washington and Montana. She lives in Seattle with Karl Bode, a technology/consumer rights journalist, and their two cats, Hiro and Djinn.
Thomas Hitoshi Pruiksma is an author, poet, translator, teacher, magician, musician, and lover of life. His books include The Safety of Edges (poems), Body and Earth (a dialogue with the artist C.F. John), and Give, Eat, and Live: Poems of Avvaiyar (translated from the Tamil). He has lived and worked in south India and southern Mexico, serves as Language Consultant for the Cozy Grammar series of online video courses, and with his husband David Mielke will be performing the original show that they've written together, The Driftwood Bridge: An Offering of Story and Song, later this year in Seattle. thomaspruiksma.com
Brian Shūdō Schroeder is a Sōtō Zen priest. He is the university Buddhist chaplain, professor and department chair of Philosophy, and director of Religious Studies at Rochester Institute of Technology.
Elizabeth Sikes is a psychotherapist in private practice in Seattle, Washington and a faculty member there of the New School for Analytical Psychology. She holds a doctorate in philosophy and has written, researched and taught in the area of existential and environmental philosophy. She is the co-director of the Seattle University EcoSangha Zen meditation group, which is currently in its fourteenth year of practice.
Jason Tetsuzen Wirth is professor of philosophy at Seattle University, a Sōtō Zen priest, and founder and co-director of the Seattle University EcoSangha. His books include Mountains, Rivers and the Great Earth: Reading Gary Snyder and Dōgen in an Age of Ecological Crisis (SUNY 2017). He lives in the Duwamish watershed of Cascadia on the traditional and unceded lands of the Duwamish people.