Please join us for the 5th Cascadia Poetry Festival in Tacoma. See the whole schedule here. Registration for all events, except workshops, is $25 and linked here.
Highlights: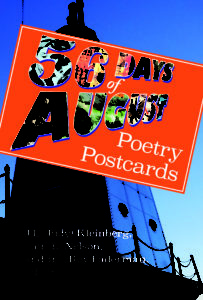 Thursday, October 12 7pm – Launch of 56 Days: Poetry Postcards, King's Books, 218 St Helens Ave. All three co-editors, Ina Roy-Faderman, Judy Kleinberg and Paul Nelson will read work and talk about the book and the August Poetry Postcard Fest. Previous fest participants are encouraged to attend and read. Look at the swag at the book's IndieGoGo Campaign!
The festival is a tribute to Tacoma native Richard Brautigan and his daughter Ianthe Brautigan-Swensen will read on the main stage, appear on a panel  focused on the life and legacy of Brautigan and lead a memoir workshop.
Among the scheduled Main Stage poets are: Beat Legend Michael McClure, Patricia Smith, CA Conrad, Bruce Weigl, Lorna Dee Cervantes, Sharon Thesen, WA Poet Laureate Tod Marshall, Philip Red Eagle, Gary Lilly and Lucia Misch.
Living Room is a daily, open and democratic reading where you can read your own work and listen to other poets from around the bioregion reading their own work, 3-5pm Friday, Saturday and Sunday.
Saturday's Small Press Fair 12N-5pm features: PageBoy Magazine, Reckoning Press, Pleasure Boat Studio, Ken Waldman (Alaska poet), Pooka Press, Leah Mueller (poet) Blue Cactus Press, Floating Bridge Press, Moon Path Press (Glenna Cook Thresholds), Pacifica Literary Review, Wave Books, Cascadia College, Uttered Chaos, entre ríos books.
Sunday at 2 we will unveil a plaque dedicated to the memory of two poets who lived in Tacoma at the very address where the plaque will be installed, Richard Brautigan and Steven Jesse Bernstein.
Michael McClure closes the fest with a solo reading and some memories of his friend Richard Brautigan Sunday at 6pm.
This is the most ambitious event we're ever attempted and we are grateful to Dale King, the Puget Sound Poetry Connection, Humanities Washington, ArtsWa and other sponsors.